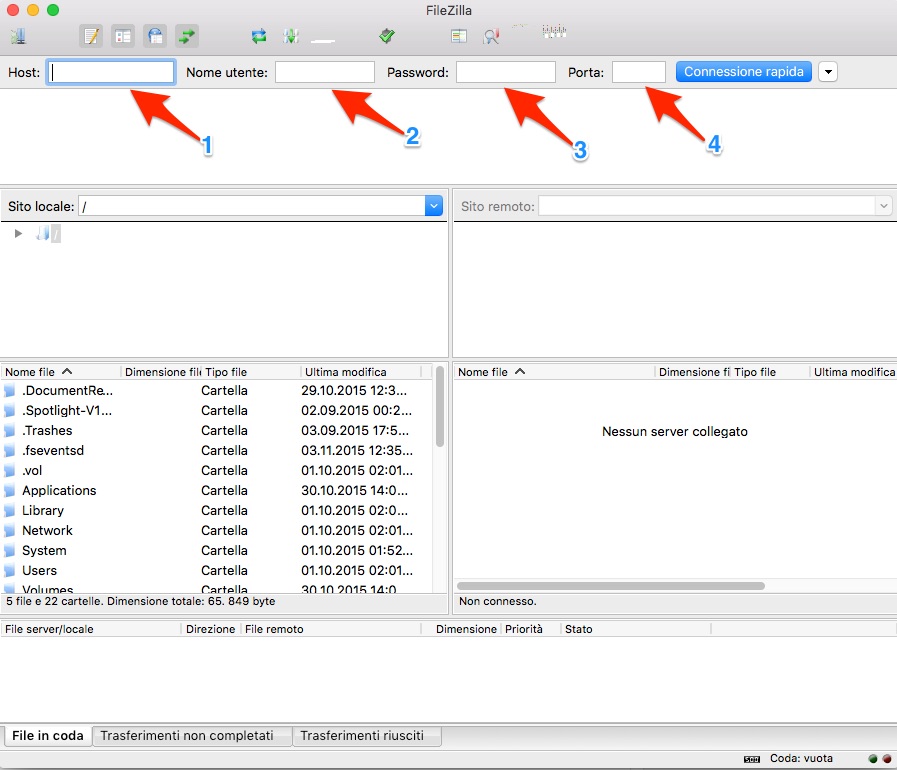 Come installare un Tema su WordPress tramite FTP
Dopo averti spiegato come installare un tema su WordPress tramite l' amministrazione adesso ti voglio spiegare nel dettaglio come installare un tema su WordPress tramite FTP.
Di cosa hai bisogno prima di iniziare:
Accesso FTP, lo trovi nel pannello del tuo hosting, se non lo trovi richiedi assistenza. I dati che ti servono sono: Host (ftp.iltuodominio.ext), Nome utente ( iltuodominio.ext ) Password ( quella che scegli ), Porta ( quasi sempre è 21, ma tu controlla per essere più sicuro) CONSIGLIO: scrivilo in un foglio di carta oppure stampalo.
FileZilla, lo puoi scaricare cliccando qui. Si tratta di un Client FTP che permette di trasferire file su internet. E' disponibile sia per Windows sia per Mac.
Avere già installato WordPress! Se ancora non lo hai fatto ti lascio la guida per installarlo con 1-click!
Un Tema per WordPress, ti consiglio di acquistarlo su Themeforest.  Ovviamente dovrai sceglierlo in base alle tue esigenze, tranquillo ci sono le categorie ad aiutarti per fare la giusta scelta.
Se devi creare un Blog io ti consiglio Sahifa (se sei un tipo sveglio hai notato che c'è qualcosa di familiare! Infatti è il tema che uso io per il mio blog!)
Tutto qui! Per il momento non hai bisogno di altro!
Hai installato WordPress? Perfetto possiamo proseguire!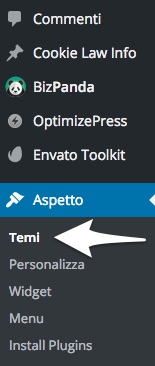 Adesso recati sul pannello di amministrazione sul tuo Blog o sito web, per far ciò basta cliccare  "www.iltuosito.ext/wp-admin". Clicca su Aspetto, e subito dopo clicca su Temi. (guarda l'immagine a sinistra).
Troverai tre Temi pre-installati, e solo uno dei tre è attivo ovvero Twenty Fourteen. Fino a qui mi stai seguendo? E' tutto per come ho scritto fin ora?
Se la risposta è SI, possiamo continuare ed installare un "NUOVO" tema su WordPress. Adesso recati su Themeforest e scegli il Tema in base alle tue preferenze.
Hai comprato il tema che rispecchia le tue esigenze? Perfetto, adesso devi scaricarlo, ovviamente verrà scaricato un file con .zip, sul Desktop in modo da averlo sempre ben in vista.
Dai ci siamo quasi, manca meno di quanto pensi!
Fermati solo un secondo!
Cosa ne dici di condividere questo post con i tuoi amici potrebbe interessare anche a loro! 
[arrows style="arrow-red-2.png" align="center"]
[cresta-social-share]
Installare Tema su WordPress tramite FTP
Ricordi quando ti avevo detto di scaricare ed installare FileZilla? Bene, è arrivato il momento di usarlo.
Inserisci il tuo Host, ftp.iltuonome.ext
Nome utente, iltuonome.ext
Password, quella che hai scelto nel pannello di controllo del tuo Hostin
Porta, quasi sempre è 21, ma se cosi non fosse a te basterà inserire quella che ti viene assegnata.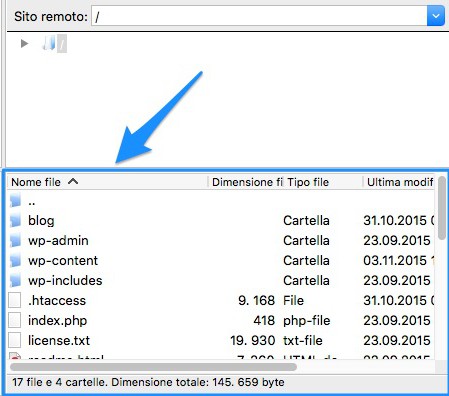 Se non vedi bene l'immagine basta cliccarci sopra per vederla a tutto schermo.
ok ci siamo adesso sei entrato nel server del tuo blog o sito web, hai tutto a disposizione proprio sotto i tuoi occhi.
Adesso che sei dentro al server prendi la cartella .zip che ti avevo detto di mettere nel desktop e decomprimila, aspetta che finisca e ti troverai una cartella che contiene tutti i file del tema.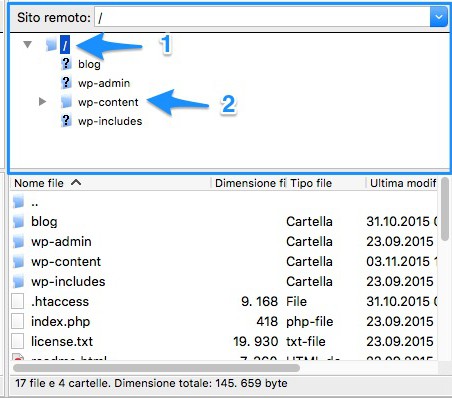 Adesso seguimi bene in questi pochi passaggi.
Torna su FileZilla, ricordati che ogni tot di tempo il server disconnette la connessione quindi riconnetti il server, e clicca come in foto dove c'è il numero 1.
Adesso ti compariranno
Blog
wp-admin
wp-content
wp-includes
Cosa sono queste cartelle? Queste sono le cartelle che contengono parte del tuo blog o sito web con WordPress, ognuna di esse ha la sua importanza 
ma questo lo scopriremo più avanti.
Adesso clicca su wp-content, e come puoi notare, ti verranno mostrate varie cartelle ma quella che interessa a te è quella dove c'è scritto themes.
Come immagino avrai capito, anche in questo caso, dovrai cliccare proprio su themes. Fatto? Ottimo, adesso ti verrà mostrata la cartella che contiene tutti i temi installati su WordPress, ovvero :
Twenty Fifteen
Twenty Fourteen
Twenty Thirteen
[Locker] The locker [id=693] doesn't exist or the default lockers were deleted.
[optin_box style="11″ alignment="center" disable_name="Y" email_field="email" email_default="Inserisci la tua migliore email…" integration_type="activecampaign" double_optin="Y" thank_you_page="http://www.marcodasta.com/grazie-per-esserti-iscritto/" already_subscribed_url="http://www.marcodasta.com/grazie-per-esserti-iscritto/" list="1″ name_field="first_name" name_default="Enter your first name" name_required="Y" opm_packages=""][optin_box_field name="headline"][/optin_box_field][optin_box_field name="paragraph"]PGgxIHN0eWxlPSJ0ZXh0LWFsaWduOiBjZW50ZXI7Ij48c3BhbiBzdHlsZT0iY29sb3I6ICNmZjQ1MDA7Ij5TY2FyaWNhIGlsIFJlcG9ydCwgw6ggR1JBVElTITwvc3Bhbj48L2gxPgo8cD48aW1nIGNsYXNzPSJzaXplLWZ1bGwgd3AtaW1hZ2UtMjgyNSBhbGlnbmNlbnRlciIgc3JjPSJodHRwOi8vd3d3Lm1hcmNvZGFzdGEuY29tL3dwLWNvbnRlbnQvdXBsb2Fkcy8yMDE2LzEyL3NjYXJpY2EtaWwtcmVwb3J0LWJhbm5lci5wbmciIGFsdD0iIiB3aWR0aD0iMTAwMCIgaGVpZ2h0PSI2MDAiLz48L3A+CjxwIGNsYXNzPSJwMSIgc3R5bGU9InRleHQtYWxpZ246IGNlbnRlcjsiPlthcnJvd3Mgc3R5bGU9ImFycm93LXJlZC0yLnBuZyIgYWxpZ249ImNlbnRlciJdPC9wPgo8aDMgY2xhc3M9InAxIiBzdHlsZT0idGV4dC1hbGlnbjogY2VudGVyOyI+PHN0cm9uZz48ZW0+VGkgYmFzdGEgc29sbyBpbnNlcmlyZSBsYSB0dWEgbWlnbGlvcmUgZW1haWwhPC9lbT48L3N0cm9uZz48L2gzPgo=[/optin_box_field][optin_box_field name="privacy"]Ci tengo alla tua privacy, non ti invierò mai spam[/optin_box_field][optin_box_field name="top_color"]undefined[/optin_box_field][optin_box_button type="0″]Si, Voglio scaricare il Report[/optin_box_button] [/optin_box]